Digital Advice – Advice Builder Screens
Superannuation
The following strategies will open our Super module including platform selection, contribution details, investment asset selection, product and fee comparison and advice justification.
Super Rollover

Super Contribution

Rebalance Portfolio

Establish SMSF
Investment
The following strategies will open our investment strategy screens for investment changes.
Buy Investment Property

Sell Investment Property

Invest in Term Deposit

Cash-out Term Deposit

Buy/Sell Investments
Debt Management Strategies
The following strategies will open our debt strategy screens for data input.
Reduce Non Deductible Debt

Reduce Debt

Redraw Debt
Insurance
The following strategies will open our Risk insurance module including needs analysis, research and quote comparison (powered by Omnium), product selection and advice justification.
Buy and Replace

Buy New Insurance
Other Advice Pages
All other strategies available in the template attached will populate from known data and then enable you to make any changes directly in your advice template rather than data entry fields. These may be set to appear within the advice flow to allow immediate data entry or by opening the advice document. See more on Strategy Advice Pages.
Strategy Advice Pages - eg: Account Based Pension
Strategy advice pages within the Digital Advice Flow
Strategy advice pages may be included within the Digital Advice flow screens allowing direct editing. Fields will be populated and editing can be achieved without the need to select the pencil and enter edit mode.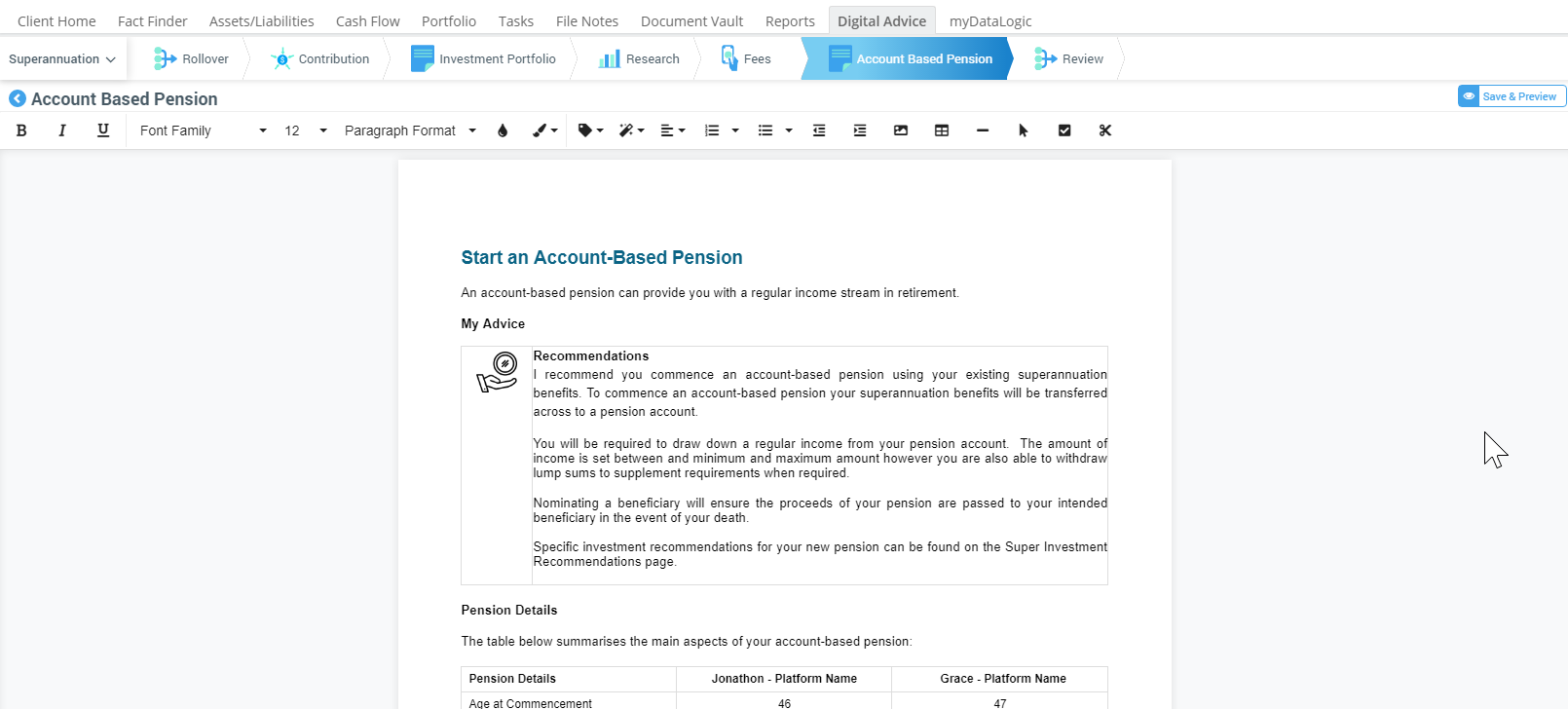 After adding your recommendations and making any required changes, select Proceed in the bottom right navigation.
Advice Builder - Using an SMA
Using an SMA
🔷 To use an SMA you have setup in Default Settings.
You will find the SMA options of the manger you selected under Model Portfolio/SMA drop-down. Select the SMA.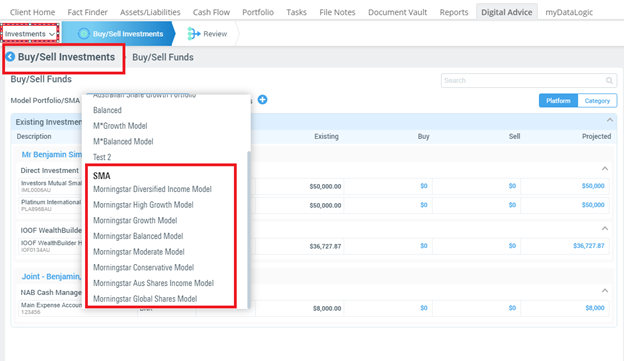 Once selected, a box will open to show the platform and the ICR you set up previously.
Click on Save.

If the ICR is not set, it will appear as 0 in the above screen and is editable on this screen.
The ICR will flow into the SoA output.
| | |
| --- | --- |
| | The SMA managers and platforms appear alphabetically except for Morningstar SMAs, which by default will appear at the top. |
| | |
| --- | --- |
| | Currently, there are 90 SMAs available. |