Digital Advice – Advice Scenario Card
Once you have created a Digital Advice Scenario, it will save the record and show on the Digital Advice Scenario screen.
Advice Scenarios where all basic Digital Advice flow entry is completed will display a green banner with "Scenario is Complete" and a Review button. Scenarios which are in progress, will display a blue banner withe "Resume working on" and a Resume button.
All strategies within a scenario will be listed. Completed strategies will have a green tick next to them.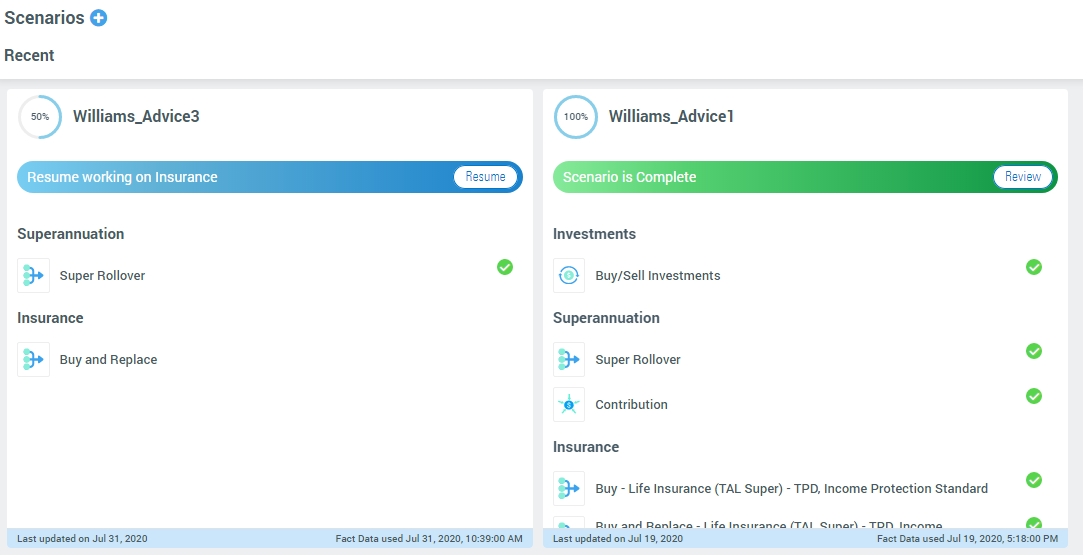 At the bottom of the Scenario cards, you will find a date stamp when it was last edited. You can also see the date and time stamp from when the client fact find data was taken. Modifying client fact find data after you have created a scenario will not change the data within that scenario.
When you mouse hover over the scenario card, additional options will be displayed.

At the top you can see and edit the Scenario name. You can also see a percentage of completion.

Resume will take you to where you left off. Click the rubbish bin icon to delete a strategy section.

Other options include:

🔷 Preview SoA

Use this option to preview and edit your SoA document.

🔷 Download

You can download the SoA to PDF and if you are a Morningstar Research subscriber, you can also download the associated research.

🔷 Add Strategy

Add other strategies to this scenario.

🔷 Delete

Delete the entire scenario. Note once deleted it can not be restored.
🔷 Download All
For Morningstar Research subscribers, you can also select to download the SoA and if Morningstar Research in a single zip file.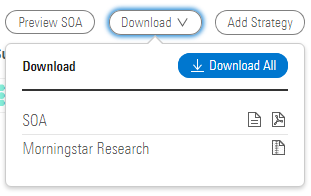 ---