Digital Advice Settings
| | |
| --- | --- |
| | Click on the gear icon in the top right-hand corner of scenario screen to change the default settings. You can also access settings via the go to settings link the first time you access Digital Advice for a client. |
Settings can be edited under three main pages:
🔷 General Settings
🔷 Super Settings
🔷 Portfolio Advice Fee Setup
General Settings
Fee Splits
Split the fee in AFSL split & Practice split
🔷 Click on Change to update your Licensee fee split
eg: AFSL Split: 10% Practice Split: 20% - This will result in the remaining 70% shown as paid directly to the client Adviser.
Adviser Upfront/Ongoing
Add Advice Fee, Super, Investment
🔷 Click on Change to add / update fees you charge as defaults.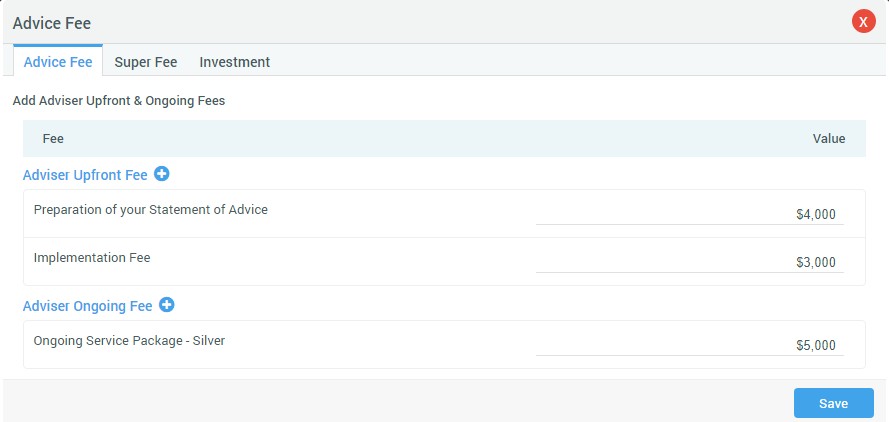 Upfront advice fees listed with the word "Preparation" will be used for the Preparation of Advice component in the Statement of Advice template. "Implementation" for the Implementation fees component. Ongoing advice fees uses the key word "Ongoing".

By using these key words in the fee description, these fees will display in your Statement of Advice as direct fees. Fees from a Fee Structure applied to a portfolio, will appear in the investment advice fees table.
Default View
Choose between platform and category view by selecting your preference.

Select Template
Choose template to preview in Digital Advice
The template attached will be displayed. eg: Template: AdviserLogic Standard SOA V1.3
🔷 Click on Change to select a different template. From the pop up window, select the Folder and Template required. Click Save.

General Settings - SMA Setup
SMA Setup
Select SMA managers that will be available for recommendation
The selected SMAs setup will be displayed. eg: Selected SMA: 13
🔷 Click on Change to modify or complete SMA setup.
In AdviserLogic, SMAs are shown as invested in platform with their specific costs (ICRs) and asset allocations.
Setting Up SMAs
On the SMA Setup screen, search and then select the SMA manager by clicking on the checkbox on the right side of the SMA manager name and then click on Next.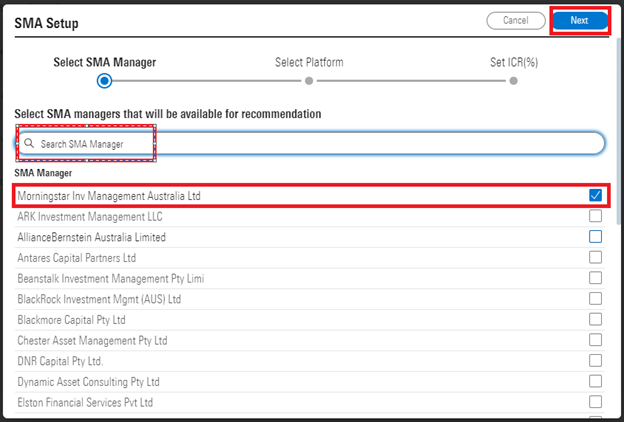 Note – You can select multiple SMA managers.
Select a platform to invest your SMA in. Then click Next to proceed.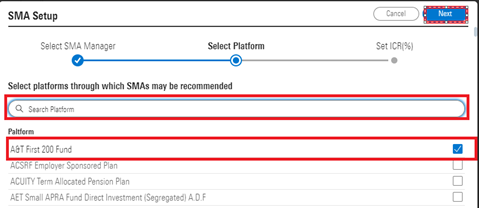 You will see the available SMAs of the SMA managers we selected. Under each SMA, you will see the platforms you selected in the previous step.
You can manually fill the ICRs in the boxes to the right of the platform names and then click Save.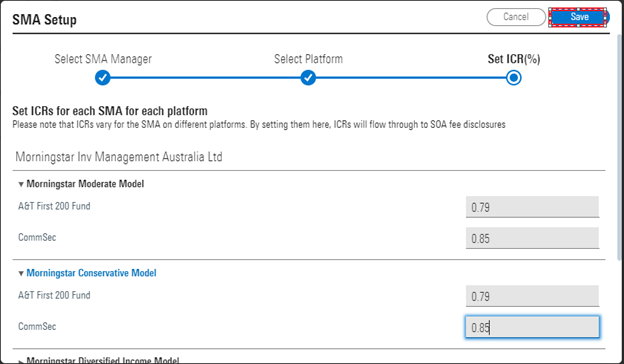 Note – ICRs can be edited manually.
---
Super Settings
Justifications
Add/Delete custom justifications(Reasons & Consequences)
🔷 Click on Change to add / update your superannuation justifications.

Research Defaults for SMSF
Add/Update the values of selected parameters which will be shown on the research page. There are 40 parameters you can set as defaults.
🔷 Click on Change to add / update details.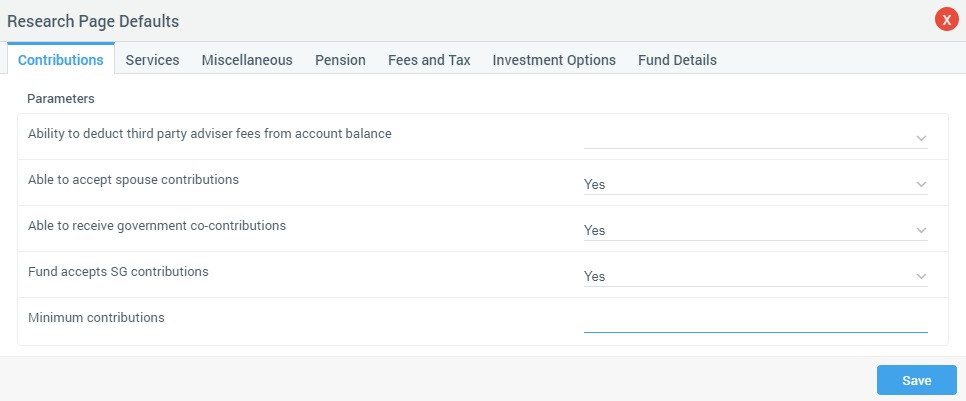 SMSF Fee Defaults
Add/Update Fee for SMSF
🔷 Click on Change to add / update details.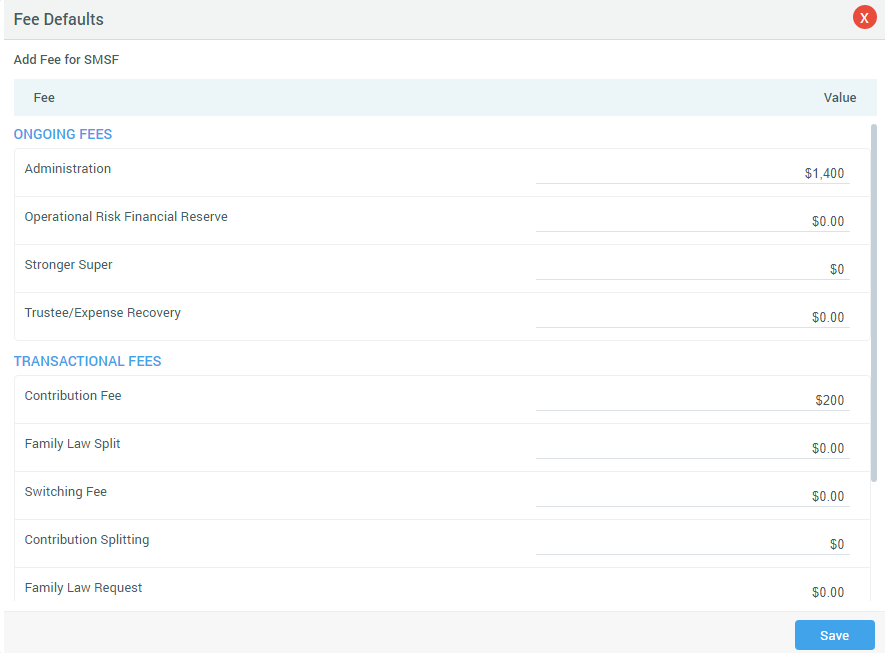 Rollover Defaults
Set the Threshold amount, Small Balance Wrap (Super) & Large Balance Wrap (Super)
The threshold amount will be displayed eg: Remove Change / Threshold Amount: $400,000
🔷 Click on Change / remove to add / update or remove amount and platforms.

| | |
| --- | --- |
| | When using the Super Rollover strategy in Digital Advice, you will now have these platforms selected as the default platform based on the rollover value. This can be a great time saver. |