Digital Advice Toolbars
Just like AdviserLogic, the toolbars in the Digital Advice editor are designed with ease of use in mind.
Simple

Lots of features don't have to overwhelm a user with hundreds of buttons. The Digital Advice editor smart toolbar has over all the features you need in a simple interface.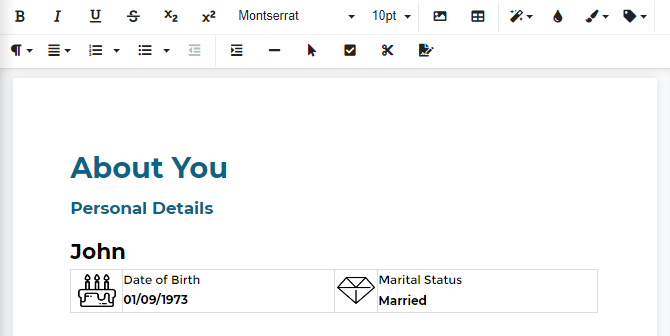 Smart ~ Intuitive

The Digital Advice editor toolbar groups all actions into categories. It's an intuitive toolbar where every feature is easy to find and your most used ones are there for you.
| | |
| --- | --- |
| | Text format basics, fonts, size, colour and predefined style wand. |
| | Text alignment, bullets and number lists and indentation. |
| | Insert pictures and tables. |
| | Insert a page break or edit page margins and orientation. |
Feature Rich

Digital Advice editor has a vast range of both simple and complex features to allow easy editing of your documents. By each toolbar appearing only when you need it, it keeps it simple and easy to use.
Table Toolbar
When you click into a table, the table toolbar will appear. Add or remove rows and columns, delete the table, change the table cell colour, merge cells, apply text formatting and alignment.
Picture Toolbar
Click on an image and the picture toolbar will display. Add a hyperlink, alignment, remove, replace, add a border and send behind text.
Links Toolbar
Change the text to display for a hyperlink / website link by clicking on the link. The links toolbar will display. Use the pencil icon to edit name to display for the link.
| | |
| --- | --- |
| | Important – There are many similarities to other editing tools such as Microsoft Word but designed to help you format quickly and easily. Being different it will take time to understand these differences but will then provide you with efficiency. |